Words by Simeen Kadi
Fancy eating at some of London's best restaurants while helping children get a solid start in life through education? Join the Belazu supper club and you could do just that. While you may be familiar with the Belazu brand of olives and other delicious Mediterranean sauces and condiments, the company's foundation has been quietly working in the background to support some of the communities from which they source their ingredients.
George Bennell, founder of The Fresh Olive Company and Belazu, set up the Belazu Foundation to help children and women in the rural, Berber regions of Morocco receive an education and be better prepared to earn an independent living. Belazu matches funds raised by the foundation through events like their supper clubs.
Recently, around 80 diners enjoyed a multi-course dinner at Hix of Mayfair in the company of George Bennel of Belazu and Mark Hix himself, with all profits from the evening going to the foundation.
We started with some excellent smoked salmon which Hix smokes on the roof of Selfridges, I was reliably informed. The charcuterie was Mediterranean in flavour but made by Moons Green in Kent.
After mains of English rose veal, sweetbreads and rosemary-skewered lamb's hearts we heard from George about the progress the foundation is making with children in Morocco.
Over 4 million people in Morocco live in poverty, with 3 million of them living in rural areas. In these rural communities, as many as 66% of 15-24 year olds are entirely uneducated. While Belazu helps these communities economically by buying ingredients such as Argan oil, The Belazu Foundation complements this by raising funds and donating money directly into the communities, working closely with teachers and local women.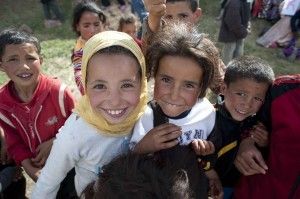 The informal atmosphere and the excellent wines that flowed all evening made for a lively night in the company of fellow foodies. Helping give children a chance of a better life through education while still having a great evening out is a model that we can all get behind. The Belazu Foundation hosts dinners at top restaurants in London every month and has already dined at Quo Vadis, Terroirs and even on the Towpath in Hackney.